This newsletter is to keep the Parents and Carers of children attending Evesham Kindergarten up to date with activities and information with regards to the kindergarten.
Dear families, here is our newsletter for Term 2, happy reading!
Welcome to the term 2 Newsletter
Important Upcoming Dates
Term Dates:
Term 2: 26 April to 24 June
Term 3: 11 July to 16 September
Term 4: 3 October to 16 December

Bunnings BBQ: Saturday 9th July

2023 Sessional Kindergarten Registrations
1st May to 30th June – Central registration scheme for sessional three and four year old kindergarten registration is open and is administered by the City of Kingston on behalf of Kindergartens.
Term 3 Invoices:
10 June 2022: Invoices will be issued
24 June 2022: Invoices will be due
Thank you!!!

THANKYOU for participating in Australia's biggest Morning Tea, with us here at kinder. With the aim of raising funds for Cancer Councils research, prevention programs. information and support services, we are thrilled to share with you that as a community, we have raised $610.40! Your kindness is much appreciated, and has certainly played a part in making a difference to so many people impacted by cancer.
This term we have welcomed Doris Ling as our new Fern group Teacher. Doris is very much enjoying working with the children and families in Fern group, and getting to know them all. We are thrilled to have Doris join our teaching team, and we wish her much happiness and success here at Evesham Road Kindergarten.
The Importance of Outdoor Play – even when it is cold outside
 
Here at Evesham Road Kindergarten, we enjoy the benefits of outdoor play, whatever the weather. Wearing appropriate clothing to protect children from the elements, playing outside in autumn, winter, and early spring, present their own unique opportunities for exploration and learning. Outdoor play is therefore something that we embrace in all types of weather, as it is crucial for children's ongoing development. Outdoor winter play is so important because –

*Children gain much needed exposure to fresh air and Vitamin D. Playing outdoors in the fresh, chilly, open air can boost children's immune systems.

*Children can experience the changes in seasons, and see different characteristics in their environment, such as brown grass, fallen leaves, lifecycle of plants and even ice – there is always something new to learn when playing in nature!

*Children need to remain active in the cooler months so that they continue to build emerging skills that are crucial to their physical development and well-being. This is because outdoor play encourages the use of the whole body by offering a safe space to run, jump, and exercise, ride trikes, and swing, supporting their gross motor development and overall health.

* Colder weather brings lots of different challenges for children, and offers new ways of learning outdoors. Children are encouraged to assess risks such as slippery surfaces caused by the rain and frost; which sees them change their play to ensure their safety. This supports children to develop new problem-solving skills and promotes cognitive thinking.

There is an old saying 'there's no such thing as bad weather, only inappropriate clothing.' So to keep children warm for our outdoor play at kinder during the colder weather, we encourage you to please provide a warm jacket and beanie each day, gloves for those extra cold days, gumboots for the children to wear should they wish to, so their feet don't get cold when wet, and ensure you have packed spare clothes, including socks, for if needed. 

In Kindness 
Lisa Worland  (Educational Leader)
Banksia Group Report

Welcome to Banksia Group Dates for the Diary 
Every Wednesday  – Evesham Road Library is open to Borrow a book
Tuesday 31st May – Holly's Backyard Bee Incursion
24th June Last day of Term P.J Party Day 
Banksia group have had a wonderful and exciting start to the term, and I can't believe we are already over halfway through term 2.

This term we had our first incursion for the year from our Blake Snake Productions, Mike is fantastic with the children and the animals and helped us all learn how to look after the environment and also  the animals.  We all got to cuddle a snake, kiss a crocodile and pat a possum, plus so much more. Even those of us that were a little unsure, had a go and got really involved in the program

 
So what have we been doing? 
We have loved learning about magnets and how they work, what can and can't be attracted to them, we used magnetic balls and magnets to watch the balls magically dance across the paint to make magnificent patterns 

We have  been making some lovely collages with natural materials as we explore autumn colours

 
Also we have been experimenting with explosions and colour with Bicarb and coloured vinegar, looking at all the different colours exploding before our eyes and talking about how volcanoes work lol

Home corner continues to be a great place to be in as the children dress up and act out different roles, looking after babies, cooking, talking on the phones, sharing working together as a team and using our imagination

We love to get a little bit messy, we have been enjoying the wonders of clay, making things with playdough and recently experimenting with flour  – which has been lots of fun and a little bit dusty (LOL).  We loved scrunching, filling, tipping, pouring, sprinkling, dusting the flour with our hands  

We have shown a lot of interest in getting pattern cards and having to follow the pattern with the blocks.  Finding the right colour, size and the placement, showing great concentration and problems solving skill. We have enjoyed doing many different  constructions sets of this type over the last few weeks  

We are showing lots of interest in writing and drawing.  We are talking about all the letters of the alphabet and what sounds they make.  

Our treasure Box items also bring great interest about letters and sounds as one item for the treasure box is to bring something that starts with the letter of their name.

Music and Movement is always fun we have learnt 4 Golden Autumn leaves, the crazy ram sam song, Tufa Tufa, Right hand left hand song, Jumping Jacks, Hokey pokey Freeze and this fortnight Vegemite and marmalade body percussion, The switch song and get funky.  Lots of fun fitness singing and group work. Outside we are rolling running, cooking climbing, hiding drawing, swinging and so much more 

[photos have been removed for privacy purposes]

Thank you to all our families that booked a time for parent/Teacher conferences.  But please remember that if you have any questions or concerns please don't hesitate to contact me at any time 

I wonder what we will get up to for the next half of the term 
Thanks for your support 
Super Ange, Diana and our wonderful Helpers
Bottlebrush Group Report
[photos have been removed]   
Waratah Group Report
To all the Waratah Families, Can't believe that we are half way through the year.  Time is coming for you to make decisions about schools as they will be conducting tours, meeting etc.  We have information about schools available, but I think it is good to tour and experience the school, so you can get the feel of the educational environment.  Good luck with this venture. 

Thankyou for the gumboots, coats, beanies etc coming with the children to kinder.  We are empowering the children to question am I cold? Do I wear a coat inside? And to promote their independence in this area by showing how to put on and take off clothing.   As at school, they are left very much to make these decisions. 

Exciting news, we will be doing "Playball" in Terms 3 and 4.  This program is excellent in promoting their skills in all different sports and promoting especially their co-ordination in fine motor and gross motor areas.  The children all thoroughly enjoy this experience.  It is an excellent program.

Next Term we will be starting cooking on Tuesdays (not the first week back).  The children have been playing Master Chef at the playdough table and I must admit Maggie is a very good judge. Ha! Ha! If any parents, grandparents, uncles etc would like to cook with the children, we would love to have you come along and we will buy ingredients.  Any recipes form overseas etc we would love to make with the children.  The cooking will be coming home with the children to eat at your discretion.  The children's meal times have become especially social and chatty, so extra food can be added as well.

I hope the parent/teacher interviews will be beneficial to you all and set the scene of what the children are experiencing and what direction they need to take to make the journey to school successful.  Please remember we are here for your child and coming for a play at kinder gives you an idea of how your child is progressing.  Also, I can have an informal chat with you about their progress. 

Kim and Maggie
Fern Group Report
What we've been doing:
– To support children's social skills and emotional development, we've been reading books and having discussions about feelings, being kind and what to do when we feel like hitting.
– To connect children to the nature, we talked about autumn and seasonal changes. Children collected autumn leaves and other natural resources for many activities such as making leaf monsters, pasting and making leaf crowns.
– Science experiment and colour mixing to promote children's learning dispositions and skills.
– Booking reading Somebody's Land: Welcome to Our Country Adam Goodes and Ellie Laing to help children be aware of the First Peoples of Australia. Aboriginal symbols and Aboriginal art matching games as extensions to experience Aboriginal culture. 

For the last two weeks of term 2, we will continue using natural resources for craft, supporting children's learning about emotions and positive behaviours, and discussing the season winter. As a celebration for last day of term 2 (24th June), we will let children choose whether they'd like to have a PJ Day or a Crazy Hair Day. We will have songs, dances and cooking experience for children to enjoy. 

Best Regards from Doris and Tracy 
Wattle Group Report
 
Such a wonderful term of kinder so far, the children are certainly having a lot of fun in their very happy place of play. What an action packed and exciting few weeks it has been, with a visit from Healthy Harold, who took us through his healthy day, a visit from Blacksnake productions and a variety of wildlife animals to look at and touch, the start of Library at kinder, preparations for Mothers day, baking delicious berry muffins, and celebrating Cultural diversity dialogue and development day, by making 'mushi-pans,' Japanese steamed cakes!            

'Harold's Healthy Play day' 
On Monday 2nd May, the children in Wattle group, had a visit from Life Education and Healthy Harold (a giraffe puppet), and participated in the preschool program  'Harold's Healthy Play day.' In this module, Harold gives children the opportunity to explore the importance of healthy food and drinks, physical activity, hygiene and rest in their everyday lives. With its key theme of Becoming Healthy, this module reinforces healthy lifestyle concepts that empower children to make healthy choices and take responsibility for their own personal health and hygiene.

We watched a video of Harold's healthy day, which highlighted the importance of starting the day with a good healthy breakfast, brushing your teeth in the morning and at night for 2 minutes, Playing sport like soccer, and exercising, to have fun and be active, having rest and quiet times throughout the day, eating healthy food to give your body energy, drinking lots of water (at least 5 glasses for kinder children), washing your hands often, having a bath or a shower before going to bed, and having a good nights sleep.

We helped Harold to pack a healthy picnic basket, danced to "I like to move it" and spoke about looking after our heart, with healthy food, exercise and rest.        

BUSHLAND BIODIVERSITY with 

On Thursday 5th May, Mike and Jackie from Black Snake Productions visited us at kinder, along with a diverse range of wildlife animals found in the Australian bush, all of which are native animals that are pets. Very excited to see what animals they had brought along, we welcomed them all! With many children eager to get up close and personal with the animals, and have a hold or a pat, others preferred to look at them from a distance. How wonderful it was to meet Stick insects, Freddo the frog, Squirtal the turtle, Pinecone the stumpy tail lizard, Kimberley the snake, Snappy Tom the crocodile, a brushtail bettong, a dingo, a rainbow lorikeet and a barnyard Owl. And What did we learn today? We learnt the words 'endangered' 'nocturnal' and 'extinct', the 5 R's – recycle, reuse, reduce, rethink and replant, we don't touch any wildlife animal, wear gloves when gardening, frogs have very sensitive skin and use their eyeballs to help them swallow, to keep our pet cats inside because they attack many native animals, and stumpy tail lizards pretend to have 2 heads! So exciting to look at, touch, hold and learn about Australian wildlife. WELL DONE to all of the children for being super brave. 

To wish our Mum's a very Happy Mother's day, and in celebration of this special day, we baked some berry muffins, and shared them with our Mum's.


Happy Mothers day to all Wattle group Mum's. What an amazing job you are doing! 

Library at Kinder
We have started our Kinder 'Lending Library.'  Each Thursday, the children have the opportunity to borrow a kinder book, take it home, and enjoy it with their family.  This is a wonderful way to connect early literacy learning between kinder and the home environment. Happy reading Wattle group!



Cultural Diversity Dialogue and development day
In celebration of World day for Cultural Diversity Dialogue and development, we engaged in 'cooking from around the world' making Japanese Steamed Cakes (Mushi-pan) 蒸しパン and 'danced around the world' as we did the Mexican Hat dance. In doing so, we promoted the values of cultural diversity, dialogue and development across our globe. 


We also looked at the Japanese flag, and are learning to count in Japanese too.



Over the coming weeks, as well as reading wonderful books to children, we will engage in 'storytelling' in a range of fun, creative and meaningful ways; using puppets, felt pieces, and surprise boxes, Tell and Draw stories, listening to musical stories, and acting out some of our favourite stories.

The children are welcoming play experiences that encourage higher cognitive thinking and challenge, such as Smart games Day and Night, Duplo towers from 1 up to 20, magnetic geometric shape pictures, and constructing puzzles by number.

We will continue to acknowledge a Star of the Day, have two Helping hands each session, and enjoy the treasures the children are bringing along in the Treasure box.We have enjoyed many of our parents joining us for 'Stay and Play' and want you to know that you are all welcome at any time. This is a great opportunity to see a kinder session in action, spend some time with your child playing, and have some fun with us.



In Kindness                
Lisa and Sharon     
Extended Care
The children in Extended care are continuing to enjoy an Indoor/Outdoor program, allowing them the freedom to choose to play indoors or outdoors, and enjoy a free flow between the two play spaces. Those with a preference to engage in physically active play, are playing and exploring outside; having a swing, watering the garden, playing running games, moving the trucks around in the dirt, cooking in the sand, climbing trees, swinging on the bars and pottering around in our bush garden. Those who prefer to engage in more calming, quieter experiences, are playing and exploring inside; engaging in dramatic play in our home setting, drawing, working on a puzzle, making Mr and Mrs Potato heads, constructing with magnetic duplo and playing the Hungry dino game.

It is really lovely to spend our afternoons with the children in Extended care. Now that we are in the season of Winter, and the weather has turned rather cold, we look forward to an afternoon of cooking something warm for our afternoon tea, as well as coming together as a group to play such games as What's the time, Mr Wolf, Hide and seek, and Duck, duck, goose outside, and for music, movement and dancing inside – great ways to keep ourselves warm and cosy!


In Kindness
Lisa and Sharon

Easy Pumpkin Cake 
This easy Pumpkin Cake is fluffy, moist and absolutely delicious! Makes for a lovely morning or afternoon tea, or lunchbox treat! Enjoy!


Ingredients –
2 cups Plain flour
1 cup granulated sugar
1 tsp baking soda
2 tsp baking powder
2 tsp cinnamon
3 large eggs
1 cup oil
3 – 3 ½ cups pumpkin, mashed or pureed as smoothly as possible 

How to make –
Preheat oven to 177 degrees 
In a large bowl, whisk together the dry ingredients
In a second medium bowl, whisk together wet ingredients, until well combined
Add wet ingredients to dry ingredients, and whisk until smooth. Transfer to prepared baking pan and bake for 35 – 60 minutes (depending on oven)
Let cake cool. 
 
Contacting the Kinder or your Child's Teacher

If you need to speak to your child's teacher you are most welcome to do so, teachers are generally available after a session for a brief discussion. You can also phone the kinder to organise an appointment. If you would prefer to contact the kinder via email please use the following email addresses.         
Sarah: sarah@eveshamroadkinder.com.au
                Lisa: lisa@eveshamroadkinder.com.au
                   Kim: kimc@eveshamroadkinder.com.au
                   Angela: angela@eveshamroadkinder.com.au

Please note, if your matter is urgent, please phone the kinder or speak to your teacher in person. 
Fundraising Update…

A massive thank you to everyone who has supported our fundraising efforts so far at the kinder.

Our Mothers Day stall was one of our biggest fundraisers so far as we managed to raise close to $500.  I would like to especially thank Antonella Taranto from Argilla Designs (@argilladesigns) for the donations of earrings – designed and handmade by Antonella. This is the second year Antonella has donated her earrings to our Mothers Day Stall.

Thank-you for your ongoing support to Evesham Road Kindergarten.

Many thanks,
Zoe and the fundraising team.

Social Update…
We had a great parent's night at 2 Brothers Brewery – around 40 parents attended and we raised $180 for the kinder (20% of food and beverage purchased on the night). 
[photos have been removed]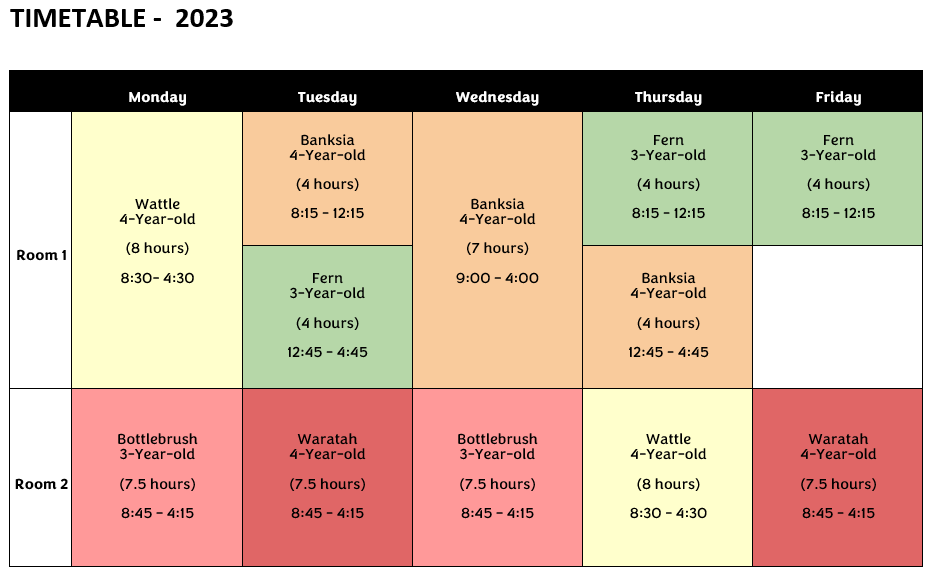 2023 Fees
Important information regarding your child's funded kindergarten program

The Victorian Government provides funding to support children to access a high quality kindergarten program in the two years before they start school. The funding is a contribution towards meeting the cost of the kindergarten program.

Your child is enrolled this year, to attend the Three-Year-Old Kindergarten or the Four-Year-Old Kindergarten program, here at Evesham Road Kindergarten. Your child can only be funded for a kindergarten place at one service at any one time and only for one year in a Three-Year-Old Kindergarten program and one year in a Four-Year-Old Kindergarten program (unless your child is assessed as being eligible for a second year of Four-Year-Old Kindergarten by your child's kindergarten teacher).
Child Safety
At Evesham Road Kindergarten, we are committed to the rights of all children to feel safe. We work hard to meet child safe standards, and this includes promoting

– The cultural safety of Aboriginal children
– The cultural safety of children from culturally and/or linguistically diverse backgrounds, and
– The safety of children with a disability.

We always act in the best interests of every child, and regularly engage in professional discussions around children's health and wellbeing, our legal obligations to protect children, supporting families, and improving upon our practices, to ensure the safety of all children, at all times.
Complaints and Grievance Officer
Please note that the kinder has a complaints and grievance policy and due process is always endeavoured to be followed. 

If you have a complaint you would like to resolve with the kinder, please contact our president Paula Milne, in writing via email president@eveshamroadkinder.com.au